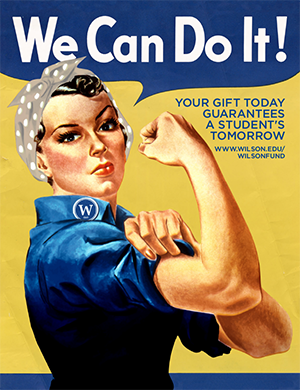 Feel the pride and sense of purpose that comes from financially supporting Wilson College. Make your annual gift to the Wilson Fund today.
 
By taking this simple step, you are doing so much more than just making a philanthropic donation. You are helping to guarantee Wilson College has the resources it needs to fulfill its mission – empower(ing) students through an engaged, collaborative, liberal arts education that combines the skills and focused study needed for success in work and life. The Wilson Fund annually provides unrestricted dollars to cover the most critical financial needs of our institution … whether they be operational, for student scholarships, to cover an unexpected facility need, or responding to the global COVID-19 pandemic. Every dollar you give counts.
 
Make a gift and help the College reach its goal of raising $1 million this fiscal year. Whether you are an Odd, an Even, a Parent, Faculty, Staff or a Friend of the College, your gift today guarantees a student's tomorrow.
Thank you.
Contact Information
Office of Institutional Advancement
Angela Zimmann
Vice President for Institutional Advancement
717-264-2061
angela.zimmann@wilson.edu

Denise M. McDowell
Director of Development
717-264-2111
717-816-3102 (cell)
Toll Free: 866-446-8660
denise.mcdowell@wilson.edu