Student Scholarships
Scholarships play a key role in the financial aid offered to more than 90 percent of Wilson College students. Many of these endowments and funds exist because of the generosity of our alumnae, their families and friends of the college.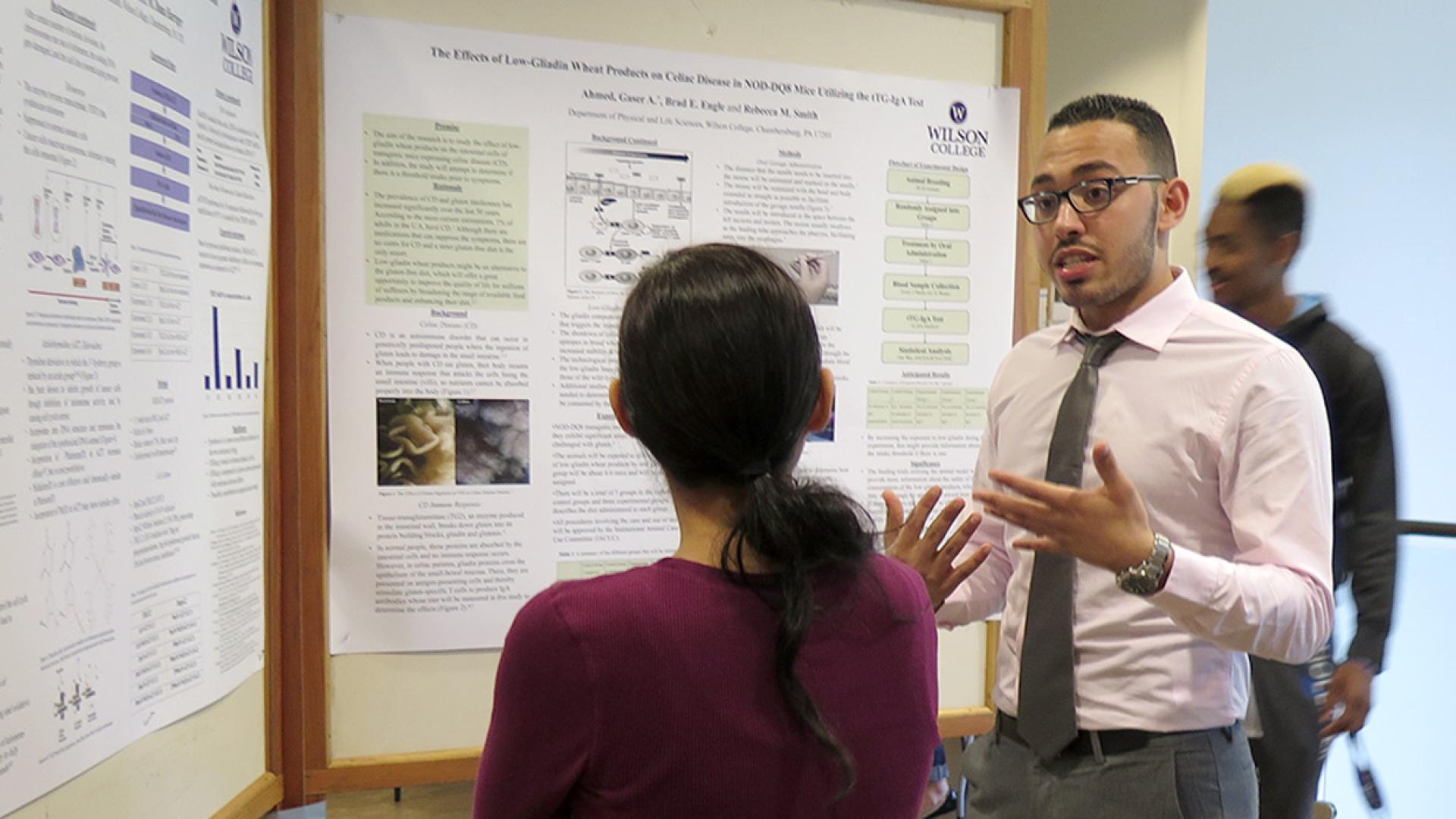 Helping Students Attend College
Scholarships make a significant difference in our ability to attract new students, retain accomplished scholars and increase Wilson's capacity to prepare students well for the complex world they face upon graduation.
Carrie Westfall McCormick Scholarship (preference given to students preparing to teach)
Class of 1952 Scholarship in Liberal Arts, Sciences and Education (for first-time or transfer student pursuing teacher certification in these fields)
Suzanne Hodgson Gottling '56 Scholarship Endowment
Class of 1966 Endowed Scholarship
Class of 1968 Endowed Scholarship
(* denotes student must be of good academic achievement)
Abraham and Mary Cohen Jacobs Scholarship*
Allfirst Bank Scholarship* (now M&T Bank)
Arline E. Shannon Scholarship Endowment*
A.K. Wright Scholarship*
AICUP Scholarship - UPS*
Carrie Westfall McCormick Scholarship (* and preference given to students preparing to teach)
Class of 1954 Memorial Scholarship*
Class of 1905 in memory of Mabel Gallagher Wilson*
Class of 1950 Scholarship Endowment*
Dr. Carl E. Seifert Memorial Scholarship (* and preference for women students who have interest in French or Latin)
Elizabeth and Lawrence Dunlap Scholarship (* and preference given to students applying from Lancaster Day School)
Ella May Coover Logan Scholarship*
The Ester L. Saanum and Julian E. Jensen Memorial Scholarship*
Fannie W. and W. Stanford Hilton Scholarship*
Marguerite McGregor '51 Scholarship Endowment*
Peter and Sara Jo Mazur Scholarship*
Veronica Storey Rollka Memorial Scholarship*
The Marjorie Adair '48 and Richard H. Parsons Scholarship Endowment (preference given to a U.S. citizen/student taking languages)
Mary Belle McElwain – Class of 1898-Scholarship
Nancy Jane Criswell – Class of 1889-Scholarship
Charlotte I. Davison '63 History Scholarship
Dorothy E. and Leroy Straight Scholarship
Julia Dunn Howells '37 Scholarship
Eleanor Lowe Leaman and William G. Leaman Jr., M.D., Scholarship
The Janet Hess Garis '48 Scholarship for Science
Peggy Hurst '46 Memorial Scholarship (preference for student in sophomore or junior year majoring in chemistry, physics, biology or mathematics)
Scholarship to Enhance Biology and Chemistry Learning and Research (SEBCLAR)
Viola Ohler '35 and William H. Phillips Scholarship Endowment (preference given to full-time residential students majoring in mathematics or chemistry)
Charlotte Klein Swaim Scholarship Endowment
CV Starr Scholarship Endowment
Elizabeth Swain Havens Scholarship
Elizabeth Titzel Scholarship
Global Scholarship Endowment
Global Student Exchange Scholarship
The Hagop Bogigian Scholarship (women of Armenian descent are eligible)
Howard and Elizabeth Guest Endowment for Cross Cultural Understanding
Helen L. and Edmund B. Redington and Mary Redington Galbraith Scholarship
International Scholarships
Lucy A. Bremmer '51 Global Citizenship Service Learning Award Endowment
Patricia W. Telkins '63 and Stephen Telkins Int'l Scholarship (preference for international students or students with interest in international affairs)
Mary McKnight Richards – Class of 1897-Memorial Fund
The Varter Bogigian Derarian Scholarship
Thomas and Peggy Hyde - for Spanish
Robert M and Brenda Ashton Aiken - to Italy for art study
C. Davison '47 Mathematics Scholarship Endowment
Belle Snyder Criswell Scholarship
Eydth Thompson Voice Memorial Scholarship
Louise Collier Musical Scholarship Endowment
Margaret Wilson Philips Scholarship
Mabel I. Bashore Scholarship
Elizabeth Patterson Weitzel '10 Scholarship Endowment
Elizabeth Van Blarcom Shirk '49 Scholarship Endowment
Gretchen Conn Carbaugh Scholarship Endowment
Guild Daycare Scholarship
The Harry A. Blackmun Endowment
Jane Troutman Ensminger '52 and Richard Ensminger Scholarship Endowment
The Mary Elizabeth Hicks and John Temple Evans Memorial Scholarship
Suzanne Hodgson Gottling '56 Scholarship Endowment
Esther Lydia Saanum and Julian Emil Jensen Endowment
The Catherine Henry Dimmick Memorial Scholarship (preference given to full-time residential students who are single mothers)
The Sylvia Scalera Davison '44 and Mary Meinecke Dee '44 Scholarship
Thomas F. and Kathleen W. Kimes '52 Women with Children Scholarship
The Baker Family Scholarship
Anne Du Daycare Scholarship
Christian Jessen Daycare Scholarship (preference given to children of single mothers who are full-time students and whose children attend W.C. Day Care Center)
Dorothy L. Stabler Daycare Scholarship Endowment (preference given to children of single mothers who are full-time students and whose children attend W.C. Day Care Center)
Edith McKinny and Willard P. Graham Daycare Scholarship Endowment (preference given to children of single mothers who are full-time students and whose children attend W.C. Day Care Center)
Joan Mitchell '63 and Daniel E. Wiley Child Care Scholarship (for child care for children of single mothers enrolled as full-time residential students)
Curran Scholarship Endowment
Filomena Massa Memorial Service Scholarship
Marilyn Houser '48 Scholarship Endowment
1957 Scholarship Endowment
Adelaide Hunt Rowe '14 Scholarship
Anna F. Wells Scholarship
Anna Louise Sybrandt Scholarship
Anne Petralito Scholarship
Alice McDannell '57 and Ray Drum Scholarship Endowment
Ann M. Ewing Ph.D. Memorial Scholarship
Anna L. Savacool Scholarship Endowment
Anne Morgan Horner Scholarship
Arline Eshleman Shannon Scholarship Endowment
The Beatrice Fenner Blackadar '42 Endowment
Belle McLellan Pomeroy Scholarship
Bernice Cole Prentis Scholarship
Betsy Coen Trapuzzano Scholarship Endowment
Business Partner Endowed Scholarship
Caroline P. Bair Scholarship
Charlotte Gemmill '20 Restricted Scholarship
Charity Packer Buchanan Scholarship
Clair Wheeler Shepler Scholarship
Class of 1919 Centennial Scholarship
Class of 1923 Scholarship
Class of 1964 Endowed Scholarship
Class of 1967 Endowed Scholarship
Class of 1968 Endowed Scholarship
Class of 1970 Endowed Scholarship
Class of 1971 Endowed Scholarship
Cora Elizabeth Lutz Scholarship
Col. Thomas A. Scott Memorial Scholarship
The Charles S. Coen and Mary Coen Foundation Scholarship Endowment
The Margaret Criswell Disert '20 Honors Scholarship Endowment
Dorcas Thomas Memorial Scholarship
Dorothy E. G. Teckmeyer Scholarship Fund in Honor of the Class of 1930
The Warren N. Nevius Scholarship Endowment
Emily Ritner Alter Werkheiser '24 and Isabel McFarlane Alter Hill '18 Scholarship Endowment
Edwin T. and Mary Niemyer Hollinger Scholarship
Eleanor Martin Allen Scholarship Endowment
Eleanor F. Rodisch '40 Scholarship
Eleanor S. Hall-Class of 1909 – Scholarship
Elizabeth C. Gallagher Scholarship
Ella B. Everitt Scholarship
Ethelbert Warfield Scholarship
Eunice Abbie Dickinson '19 Scholarship
Eleanor Martin Allen Scholarship
Eleanor Stuart Fulton Restricted Scholarship
Elizabeth S. Baird Scholarship
Elizabeth McGeorge Sullivan Education Scholarship
Elizabeth Robb Endowed Scholarship
Endowment Scholarships
The Franklin Financial Scholarship Endowment (F&M Trust)
Fannie W. and W. Stanford Hilton Scholarship
Gail Scott Kurtz Scholarship Endowment
Dorothy L. Gettinger and Fern M. Gettinger '24 Memorial Scholarship
Helen Ininger Scholarship Endowment
The Howard R. Tate and Agnes Helen Holden Tate '15 Scholarship Endowment
Helen V. Martin – Class of 1908 – Scholarship
Judith C. Hellfach '52 Scholarship Endowment
H.E.R. Scholarship
J. G. Reaser Memorial Scholarship
J. K. Russell Scholarship
Jane R. Ross Scholarship
Jean Stapleton Scholarship Endowment
Jean Dill Scholarship
John C. and Emilie K. McDowell Scholarship
Joseph Clark Scholarship
Joseph Roszkowski Memorial Scholarship
Katie E. Hershey Memorial Scholarship
Lennox Endowed Scholarship
Lillia Babbitt Hyde Scholarship
Louise Lindsay McKnight Scholarship
Louise Howell '38 Memorial Scholarship Endowment
The M. Kathryn Glick Scholarship Endowment
Margaret and Martha Jamison Scholarship
Marjorie Faix Brown Bletcher '42 Memorial Scholarship Fund
Mary E. Diamond '34 Scholarship
Mary Louise Tinkler '45 Scholarship
Mary McCleary Lupfer Scholarship
Mary Salome Billmeyer Baker
Mernie Turrell Howorth Memorial Scholarship
Monticello Scholarship – In Memory Of Esther Anne Wright Keller
Marguerite McGregor '51 Scholarship Endowment
Marilyn Houser '48 Scholarship Endowment
Marion M. McAtee Scholarship
Mary E. Moore '31 Scholarship
Mary I. Stephens '50 Scholarship
Mary Keeny Eberly '25 Scholarship Endowment
Mary Margaret Forney '37 Scholarship Endowment
Miriam C. Matthews '17 and Miriam M. Haddad '47 Scholarship
Nancy Foster Craig and Nancy Pearl Craig Scholarship
Nellie McIlvaine Hoopes Scholarship
Norman O. Huber Scholarship
Mrs. N. Milton Woods Scholarship
Mr. N. Milton Woods Scholarship
Mrs. William T. Scheide Memorial Scholarship
Olga Bozzan Bastin '26 Scholarship
Patricia W. Telkins '63 and Stephen Telkins Int'l Scholarship
Paula Hoch Highman Scholarship Endowment
Peggy Hurst '46 Memorial Scholarship
Phyllis King Smith '43 Scholarship
Porter S. Kier Scholarship
Pomeroy Family Scholarship
Ruth Fagley Codington '37 Memorial Scholarship
S. Elizabeth Yaukey '31 and Charles A. Bikle Scholarship Endowment
The Ester L. Saanum and Julian E. Jensen Memorial Scholarship
Sarah Cocharan Coppes Scholarship
Sarah Elizabeth Burns Scholarship
Surdna Foundation Scholarship
Scholarship Fund Restricted
Shover Memorial Endowment Scholarship
Florence C. Strouss and Charlotte Newcombe Foundation Scholarship
The Barron Blewett Hunnicutt Memorial Scholarship
The Burger/McClay Scholarship Endowment
The Donald B. and Dorothy L. Stabler Scholarship Fund
The Edwards Scholarship
The Madame Helena Rubenstein Scholarship
The Alumnae Association Scholarship
The Sarah Anderson Memorial Scholarship
The Van Looy Scholarship
Theodore B. Westgate Scholarship
Verna Parker Scholarship Endowment
Wilson College Club of Pittsburgh Scholarship
Contact Information
Office of Institutional Advancement
Angela Zimmann
Vice President for Institutional Advancement
717-264-2061
angela.zimmann@wilson.edu

Denise M. McDowell
Director of Development
717-264-2111
717-816-3102 (cell)
Toll Free: 866-446-8660
denise.mcdowell@wilson.edu