Leadership Donors of Wilson College
Our Members of the Pines and Maples Society, those that generously give $1,000 annually, ensure that future generations of Wilson College students will find the life-changing experience they seek. Their gifts ensure students not only have state-of-the-art facilities, but also continue to find the foundation in liberal arts learning that sets Wilson graduates apart.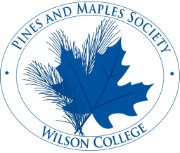 They ensure professors and students will continue to build the personal, challenging and guiding relationships that lead to excellence. By their leadership, Pines and Maples Society members enable students to find their passion, broaden their thinking and build the leader within. They invest in students – they invest in Wilson – and they invest in the future.

Wilson salutes the charter members of the Pines and Maples Society and encourages all who are able to join this group, which is dedicated to the mission and growth of the College.
Pines and Maples Society Member Benefits
As a Pines and Maples Society member, your benefits include:
An invitation to join the President at a variety of special events during the year.
Recognition in the Pines and Maples Society Honor Roll in the annual Donor Recognition Report.
A lapel pin in the shape of the beloved pine and maple leaves that grace the Wilson College campus.
Leadership Giving Levels
Gold Circle - $50,000+ President's Circle - $25,000 - $49,999 Dean's Circle - $10,000 - $24,999 Silver Key Circle - $5,000 - $9,999 Sarah Wilson Circle - $2,500 - $4,999 Founder's Circle - $1,000 - $2,499  
Membership
With a gift of $1,000 or more to Wilson College, any alumna, parent or friend can become a member of the Society.
Contact Information
Angela Zimmann
Vice President for Institutional Advancement
717-264-2061
Alumni House, 1st Floor
angela.zimmann@wilson.edu
Denise M. McDowell
Senior Director of Advancement Services, Stewardship and the Wilson Fund
717-264-2111
Toll Free: 866-446-8660
denise.mcdowell@wilson.edu
Contact Information
Office of Institutional Advancement
Angela Zimmann
Vice President for Institutional Advancement
717-264-2061
angela.zimmann@wilson.edu

Denise M. McDowell
Director of Development
717-264-2111
717-816-3102 (cell)
Toll Free: 866-446-8660
denise.mcdowell@wilson.edu