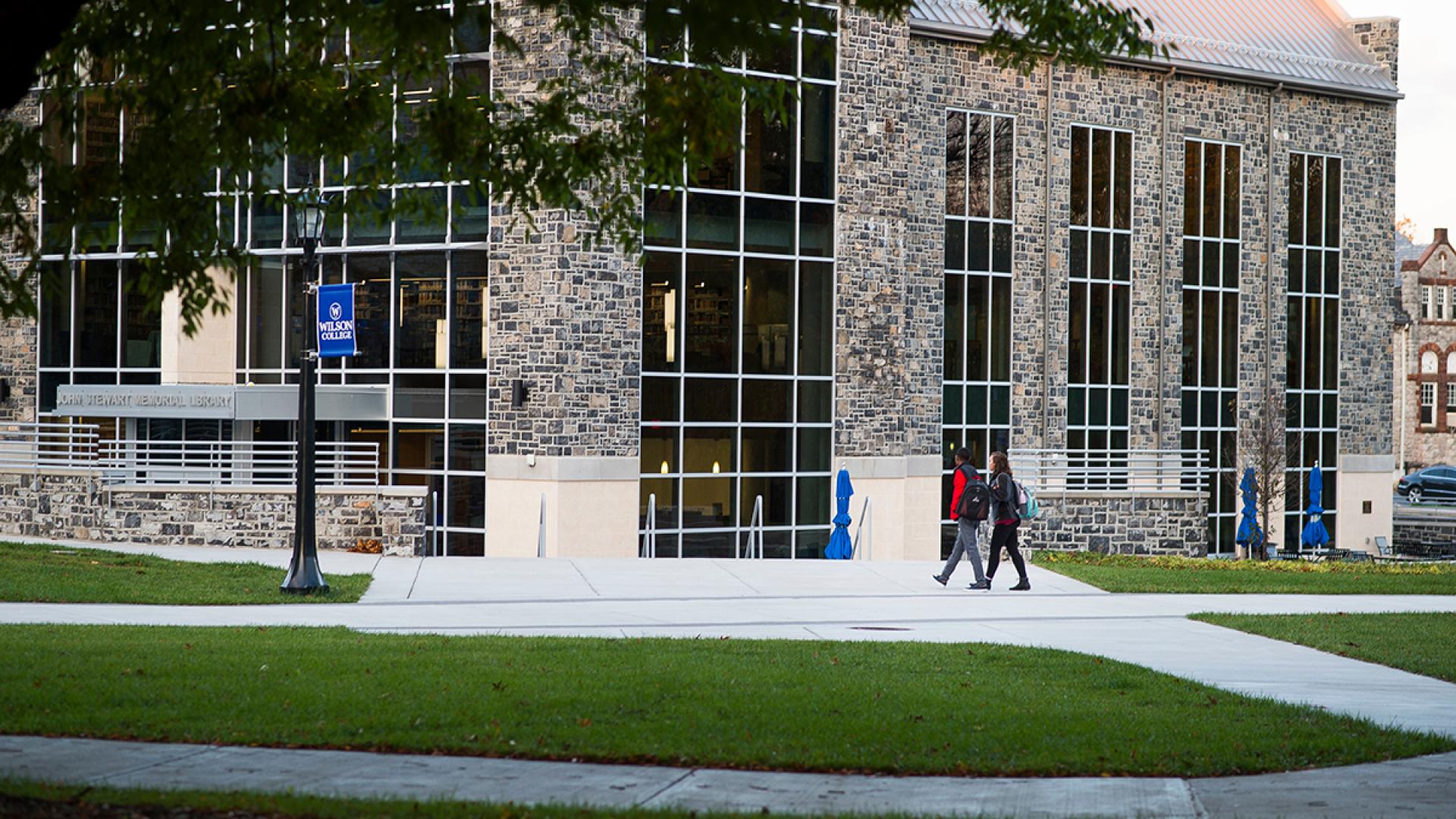 If you're a Wilson College commuter student, our campus is your home-away-from-home. Whether you want to study, meet up with other students, work out, participate in activities or just hang out, you won't feel left out with access to our commuter lounges, library, fitness center, health services and more. Plus you'll enjoy all the benefits available to on-campus students, such as Wilson's student-first focus and commitment to value–all while saving money on room and board. 
Q: What can I do when I'm not in class or where can I hang out?  
A: For the convenience of our students who need to stay on campus during the day, there is a commuter lounge on the ground floor of the library that is equipped with lockers, a kitchenette and studying and relaxing spaces. You can hang out in Sarah's Coffeehouse, a cool, industrial space on the ground floor of Lenfest Commons where you'll find vending machines with drinks and snacks. All students are welcome to use the Student Center in Lower Lenfest, which offers a kitchenette, televisions and entertainment equipment. There is also a student lounge with a kitchenette available in the Brooks Science Center.
Here are some other options:
• Jensen Dining Hall – open from 7 a.m. to 7 p.m.
• Wilson Fitness Center
• Numerous quiet nooks in the library, Lenfest, classroom buildings and outside, including the library plaza and academic quad.
Q: Where can I keep my belongings? 
A: Lockers are located in the commuter lounge in the library.
Q: Where can I eat on campus if I don't have a meal plan? 
A: Commuter students can opt into a meal plan, but are not required to do so, and you don't have to have a meal plan to eat in the dining hall. You can add meals in blocks of 20 to your account that can be used for any meal – all you have to do is swipe your ID at the dining hall entrance. (To add meals to your account, see a staff member in the One-Stop Student Services.) In addition, you can pay at the dining hall door using cash or a debit card.
Q: Do I need an ID card? 
A: Yes. IDs must be requested within the first two weeks of the semester at the One-Stop Student Services Center. Student photo IDs are also available, but must be requested in person along with your ID number so that a photo can be taken. For more details, contact the One-Stop Student Services Center at 717-262-2016 or ssc@wilson.edu.
Q: Do I need to bring a laptop? 
A: You don't have to, but if you have a laptop, you can bring it with you and take advantage of Wilson Wi-Fi, which is available throughout campus.
In addition, for your convenience, several computer labs are available at the following locations:
• Brooks Science Center 180 – 16 computers
• Brooks Science Center 228 – 24 computers
• Warfield 111 – 16 computers
• Library first and second floors – 24 computers
If you want to print while on campus, you will find printing instructions at https://my.wilson.edu/pages/printing-information
Q: What if I'm concerned about driving to campus in inclement weather? 
A: To get text alerts about a campus closing or emergency, please make sure your cell number is in the "mobile" line on the information provided to the College. You may also call the Wilson Information Line at 717-262-2060.
Q: Can I use the fitness center?
A: Yes, the fitness center is open to Wilson College students at no cost to you, but you must become a member. Medical clearance and a facility orientation are included in the membership process. You can complete the membership process, with your student ID, during any open facility times. 
The fitness center is located in the old gym (formerly the gymnastics center) and features a complete line of cardiovascular and weight training equipment, including TRUE treadmills, elliptical machines and upright and recumbent stationary bikes. In addition, the center houses a human performance laboratory and aerobics area. Men's and women's locker rooms are located downstairs, providing members with lockers, restrooms and showers.
Guests are not permitted in the fitness center and no one under the age of 16 is allowed in the center at any time, including in the lobby/sitting area.
Q: Can I use the counseling and health services?
A: Yes, wellness issues are recognized as an important part of residential and non-residential student life. The counseling center and health center, which are staffed by a counselor and nurse, respectively, are located in Lenfest Commons. The health center includes a clinic where students may consult with the college nurse for various health and wellness issues. In addition, Wilson and WellSpan Health have partnered to offer WellSpan Convenient Care, which is open from noon to 4 p.m. Tuesdays and Thursdays in Lenfest Commons. It is open to the entire Wilson community, family, friends and the public. Walk-ins are welcome. Visits require an office visit co-pay with health insurance and a photo ID.  
The counseling center provides individual psychotherapy and a psychiatrist is also available to students for medication management. Support groups, psycho-education venues, health and wellness fairs, and workshops are also offered throughout each semester. All health and counseling center services are confidential and free to Wilson students.
Q: Do I have a mailbox?
A: All students (commuters included) have a campus mailbox. ADP students can request one if they like. The post office (PO) is located in the basement of Lenfest Commons. You will receive things from the College and anyone else that may send mail to you there. Remember to check your mailbox once a week. The PO also offers a range of services such as stamps, package mailing, copying, and even sending out your dry-cleaning.
Q: Where can I park?
A: For all current information on parking, vehicle registration and other campus safety services, visit https://www.wilson.edu/parking-wilson.  
Q: Can I attend campus programs, events and special dinners? 
A: Yes, campus-sponsored events and activities are open to all students, including commuters.  
---
Wilson College is committed to the importance and value of a college education. That's why we work hard to keep our degree programs affordable. Learn more about financial aid. 
CONTACT INFORMATION
Office of Admissions
admissions@wilson.edu
1015 Philadelphia Ave.
Chambersburg, PA 17201 
717-262-2002
800-421-8402