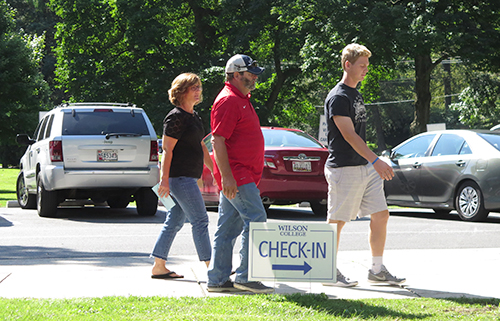 As a parent, you have prepared for this moment for the past 18 years and now your child is going to college.  As a parent of a child with a disability, you have also feared this moment for the past 18 years.  You worry if they will be ok; they will.  You worry if they will have support; they will.  You worry that they may struggle; at times, they will.  But know that you have prepared your child for this journey and they need to reach for goals in order to become who they are meant to be in this world and there is support to help them along the way.
Also know that along this journey, your child will have the opportunity to seek needed support from on-campus resources, including Accessibility Services.  Please explore the links and information below to learn more about how to coach your student in order to navigate the transition from high school to college successfully.  
Reasons for Accommodations:
Temporary – this may include broken bones or acute impairments due to surgery or injuries
Invisible disabilities – may include autism, or mental health diagnoses   
Learning disabilities – may include dyslexia or reading comprehension, math, and written expression disabilities
Physical and other disabilities –  may include mobility impairments, hearing or visual impairments, traumatic brain injuries (TBI), and chronic health impairments
 
Accommodation Process
Whether a student requires extra time for testing or has a temporary accommodation need, they need to make the decision to step forward and contact the Accessibility Services Office.  Wilson College has established the following process:
1.    The student chooses to disclose a disability 
2.    The student requests accommodations through the Eligibility Process
3.    Documentation is provided by the student
4.    The Accessibility Services Coordinator will schedule an intake meeting with the student to discuss requests
5.    Any accommodations that are approved will be outlined in a letter and sent to designated faculty and the student
6.    The student self-advocates and communicates needs with faculty and staff as needed
It does not benefit the student if a parent attempts to complete the accommodation request process for the student.  Remember, this journey is about independence and growth.  

Tips for Parents
Encourage your student to navigate college independently and identify needed resources on campus.  
Provide your student with education about Accessibility Services in the college setting and let them know that information about their diagnoses will remain confidential.  
If you feel the need to speak with an Accessibility Services staff member, please include your student in the conversation.  Due to FERPA laws, your student's educational information cannot be shared unless they provide permission by signing a release. 
Help your student determine their strengths and weaknesses and how to best use them in the college setting.  
Prepare your student for the transition to college, which is exhilarating but also occasionally challenging. Having proactive discussions about coping skills, effective communication, and conflict resolution before your student departs for their first semester can help him or her adapt to change and grow during difficult times.   
 
Differences Between High School and College for Students with Disabilities
High School

College

Applicable Laws

IDEA 2004 (Individuals with Disabilities Education Act)
Section 504, Rehabilitation Act of 1973
Intention of IDEA is educational success

 

ADA (Americans with Disabilities Act of 1990, Title II)
Section 504, Rehabilitation Act of 1973 
Intention of ADA is equal access

Documentation

IEP (Individual Education Plan) and/or 504 Plan
School division pay evaluation expenses
Eligibility by IDEA category

Documentation should include complete diagnostic testing results.
Documentation must provide information on specific functional limitations and demonstrate the need for specific accommodations
Student pays evaluation expenses

Student Role

Student identified by the school
Primary responsibility for arranging accommodations belongs to school
Teachers approach you if they believe you need assistance

 

Student self identifies
Student has primary responsibility for self-advocacy and arranging accommodations
Professors expect students to seek help if needed

Parental Role

Parent has access to student records and can participate in accommodation process
Parent advocates for student

   

Parent does not have access to student records without written consent from student
Student advocates for self

Instruction

25-30 hours a week in the classroom
Emphasis on in class learning is primary, while independent reading and study is limited.
Learning is teacher focused 
eachers may modify or alter curriculum and/or pace of assignments
Reading assignments are short
Teachers direct students step by step with frequent reminders
Expectations of limited volume of writing while still learning writing process.

12-15 hours a week in the classroom 
Emphasis on independent reading and study time.
Learning is student centered
Instructors not required to modify design or alter assignment deadlines
Substantial reading assignments in and out of class research/study
Expectation of frequent, independent review of class notes, text, and research
Expectations of substantial volume of proficient, college level writing

Tests

IEP or 504 plan may include modifications to test format and/or grading
Testing is frequent and covers small quantity of material
Teacher often take time to remind you of due dates and assignments
Many assignments and test are offered and no one assignment carries major course weight
Teachers frequently go over grades, due dates, and expectations 
 

Grading and test format changes are not available. Accommodations on how tests are given are available (extended time, etc.)
Testing often infrequent and covers large amounts of material that may be cumulative.
Makeup test frequently not an option (unless there is a legitimate reason)

Grades

Many assignments and test are offered and no one assignment carries major course weight
Teachers frequently go over grades, due dates, and expectations 

There may be very few assignments and each assignment may carry significant weight in final grade.
Long term assignments are common
Students are expected to read, save, and consult the course syllabus; Faculty give very little in way of reminders.

Study Responsibilities and Student Expectations

Tutoring and study support may be a service provided as part of an IEP or 504 plan
Others structure time and assignments.
Daily schedule generally follows a consistent routine
Study expectations may be as little as 0-2 hours a week and is generally last minute test preparation.
Students are not expected to learn or study information beyond what is covered in class and assigned.
Assimilation of information is generally provided by the teacher and often provided in a consolidated review or study guide
Function with tremendous structure, guidance, and specific proscribed direction

Tutoring DOES NOT fall under Disability Services. All student have a variety of academic tutoring opportunities available. 
Students must manage their own time and complete assignments independently
Daily schedule is not consistent and may have large blocks of time with no classes/labs.
Study expectations are 2-3 hours outside class for each hour spent in class.
Pursuit of inquiry and research is expected
Assimilation of information (notes, reading, research) is the student's responsibility
Function autonomously (independence and self-sufficiency expected)