All successful students, writers and scholars know that writing well is hard work. Those same students, writers and scholars also know that soliciting feedback from thoughtful readers is one of the best ways to improve their writing. Writing tutors at Wilson are just such thoughtful readers.  
All currently enrolled graduate and undergraduate students at Wilson have access to the Wilson College Writing Lab, where we provide both in-person and online support. Students can come to the writing lab for help with writing assignments in any discipline, at any stage of the writing process. We can offer support as students brainstorm, draft, revise and proofread─just not in one session. Our aim is to impart writers with transferable skills and to that end, we set limited priorities for each appointment and attempt to show writers how to develop, revise and edit their own work. We often see the most significant improvements in students' performance and confidence when they schedule recurring appointments with us. We also encourage students to schedule appointments in advance of due dates so they have adequate time to revise their work.  
When to come to the writing lab
When you're not sure how to approach an assignment and want to talk it out with a tutor.
When you have part of an outline or rough draft, but aren't sure where to go next.
When you have a complete draft and would like to receive constructive feedback on a few specific aspects of your writing.
When you've received feedback from a professor and would like additional help implementing his or her suggestions.
When you have specific questions about an aspect of a particular citation style or an issue with grammar and mechanics.
What to bring to an in-person appointment in the writing lab
Your assignment rubric and guidelines
Your syllabus
Sources you are citing
PRINTED copies of drafts in progress
Paper
Pen or pencil
Specific questions and concerns
Willingness to discuss your writing or to write during your session
*It can also be helpful to bring instructor feedback on current or past assignments.
What students are saying about the writing lab …
"(My writing tutor) was awesome in teaching APA format and showing me a new tool for doing revisions! Will definitely be coming back for more insights."
"(My writing tutor) was very easy to communicate with. She provided a comfortable learning environment that was supportive and encouraging. It is my hope that we can continue to work together throughout the semester."
"I have not written an English paper in probably 25 years so I was relieved to have the option of using the online writing lab. (My writing tutor) provided some very specific feedback, which I will be able to incorporate immediately."
Schedule an appointment in WCONLINE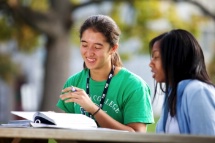 Contact Information

Sarah Feldberg
Director of the Academic Success Center, Interim Accessibility Services Coordinator
717-262-2762
206 Library
sarah.feldberg@wilson.edu
Michael Bloom Ford
Academic Success Coach
717-262-2773
204 Library
michael.bloomford@wilson.edu
 
Linda Swartz
Reading Specialist
717-262-4847
205 Warfield
linda.swartz@wilson.edu