Wilson's Academic Success Coach, Mike Bloomford, provides one-on-one sessions and workshops to help students develop the skills they will need to be successful in college courses and beyond.  Students can meet with Mike to improve time management, learn more effective methods of taking notes, refine methods of studying and preparing for tests, discuss ways to handle test anxiety, and master new, evidence-based approaches to learning difficult subjects, like math and the sciences. Students can come in for one or two appointments to brush up on a specific skill-set or work with Mike regularly in order to stay accountable to their long-term academic goals.      
When to Come to the Academic Success Coach
•    When you want to improve your academic performance or study habits, but don't know where to start
•    When you don't know how to prepare for an upcoming test
•    When you want to learn strategies to reduce test anxiety
•    When you're struggling to manage your time effectively
•    When you don't know how to study for a particular subject, like math
•    When you want to learn some new study strategies to master challenging college courses
•    When the way you take notes in class isn't cutting it
•    When you have a long-term project that you don't know how to break down
•    When you want to practice and prepare for a speech or class presentation
•    When things get a little tough and you want to talk through challenging academic situations 
What to Bring to an Academic Success Coaching Session 
This can vary a bit depending on the type of appointment you're scheduling, but it's generally helpful to have the following items on hand:
•    Course syllabus
•    Notes
•    Textbook
•    Graded tests or assignments
•    Work-in-progress (homework, speech, etcetera)
•    Calendaring method (your paper planner, Blue Book, or phone or laptop if you manage your time digitally) 
What Students are Saying about the Academic Success Coach…
"The experience was great when I came in. I did an assessment that really helped navigate the best way for me to learn math. I was pleasantly surprised with the results and all the information given to assist me."
"We were able to address specific concerns, and Mike was a very good listener."
"Very engaging and provided tons of strategies to cope with time management."
"Mike was very kind, understanding, helpful, and encouraging. I would definitely recommend him and will definitely return."
"I met with Mike to develop a plan for academic success for Fall 2019. He addressed all of my weak areas and told me strategies to implement to improve for a better semester. Very helpful!"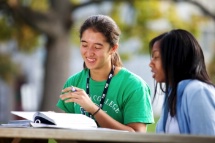 Contact Information

Sarah Feldberg
Director of the Academic Success Center, Interim Accessibility Services Coordinator
717-262-2762
206 Library
sarah.feldberg@wilson.edu
Michael Bloom Ford
Academic Success Coach
717-262-2773
204 Library
michael.bloomford@wilson.edu
 
Linda Swartz
Reading Specialist
717-262-4847
205 Warfield
linda.swartz@wilson.edu