Please join us June 1-5, 2022 for Wilson's Grand Reunion. Everyone welcome! Special celebration for classes ending in 5 & 0, 6 & 1, 7 & 2!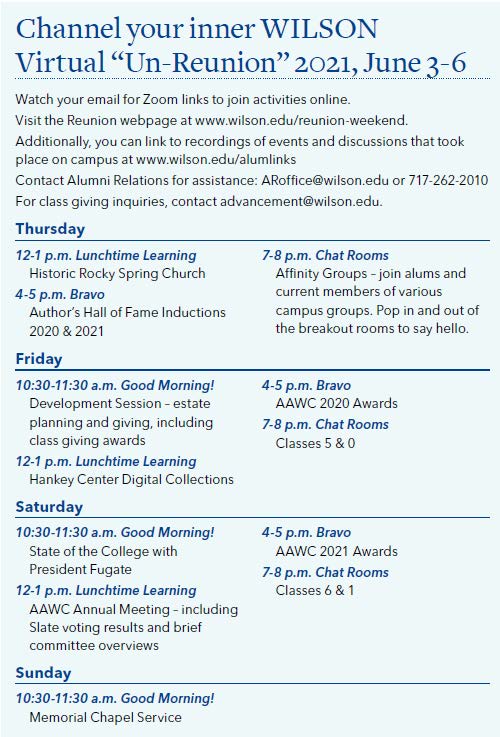 ---
~Reunion 2021 Update~
Dear Wilson Alumnae and Alumni:
After much deliberation and consultation with our 50th reunion classes of 1970 and 1971 and the AAWC board, the College will forgo all in-person reunion events this year June 3 – 6, 2021. Unfortunately, there is still quite a bit of uncertainty regarding the COVID-19 pandemic as well as the distribution of vaccines. This lack of clarity coupled with restrictions placed on event logistics by the Commonwealth of Pennsylvania make hosting this year's event challenging. Even if we were to host an in-person event, it would look and feel very different than what most of you have come to enjoy due to federal and state recommended health and safety precautions.
However, Reunion is an important tradition for our institution. We would be remiss if we did not pause and acknowledge some of the most cherished portions of our reunion schedule. Therefore, we will offer a variety of virtual events June 3 – 6. This virtual approach is not meant to replace our traditional reunion celebration but rather provide alums with an opportunity to engage with one another safely and learn the latest developments at the College. Rest assured, all of our reunion classes will be invited to campus and appropriately honored at Reunion 2022.
When finalized, our revised schedule of events will be shared online, via email, and printed in the next issue of Wilson Magazine. The College is making plans now to include the annual "State of the College" presentation by President Fugate, the annual AAWC meeting as well as voting for the slate of officers, the presentation of awards, and honoring the memory of those classmates who have recently passed. We are also working on some virtual social gatherings via class year and a few informative presentations.
This was not an easy decision to reach. And, we are certain many are disappointed. However, we must all stay vigilant in our efforts to stay healthy and keep one another safe.
Reunion 2022 – dates to be determined. We hope it will be a huge celebration following all the covid restrictions. Thank you for your patience and understanding.
Reunion 2021 – celebrating classes 1 & 6
Reunion 2020 - celebrating classes ending in 5 & 0.
---
Nominations for 2022 are due by the end of December 2021.
Board Nomination Form
AAWC Awards Nomination & Description Form
If you would like to nominate a classmate for a future award, e-mail AAWC@wilson.edu
---
Become a part of the official archives at the Hankey Center. Share your fondest memories of Wilson College and help preserve the rich history and traditions of your alma mater. Share Your Story!
---
Watch for class specific mailings for additional information, as well as, view updated details regarding classes and registered alums by scrolling to tabs below.  Keep checking back with us.
Class Dues and reunion registration may be sent payable to the Alumnae Association of Wilson College.
Wilson Fund or contributions to a class gift should be sent payable to Wilson College.  Note class dues, Wilson Fund or class gift in the memo line of check.
Mail to: Alumni Relations, 1015 Philadelphia Ave, Chambersburg, PA  17201.
For additional information contact Alumni Relations at aroffice@wilson.edu or 717-262-2010.
---
Online AAWC Voting
Online voting will close on June 4, 2020. Members can also vote using their Reunion 2020 registration form. To vote online click here. Full AAWC bylaws may be found at https://www.wilson.edu/alumnae-association (see right column under Bylaws & Policies).
---
Check back later for updates!
Check back later for updates!
The Alumnae Association of Wilson College is pleased to announce the 2021 Award recipients:
TIFT College (for service)
Distinguished Adult Degree Program
Dr. Lauren Park Thoma '02
A reminder of the AAWC 2020 Awards:
TIFT College (for service)
Dr. Jennifer Robinson Detrisac '05
Distinguished Adult Degree Program
Dorothy M. Van Brakle '06, '09
Pierce Thompson Peiffer '21
All will be honored as part of virtual reunion activities June 2021. Watch for additional details to join the presentation.
Nomination Forms for Future Years:
Board Nomination Form
AAWC Awards Nomination & Description Form
If you would like to nominate a classmate for a future award, e-mail AAWC@wilson.edu
Check back later for updates!
Please assist the Campus Food Pantry (Sarah's Cupboard) by bringing along a few items to donate (donation boxes available at the alumnae house or at security in Lenfest).
Items needed: full boxes of cereal, heat and serve single serve food, mac & cheese (microwavable), peanut butter and jelly (plastic jars), pasta sauce (plastic jars), pasta (boxes), canned chicken, crackers, disposable salt and pepper shakers, Chicken flavored Ramen noodles, granola bars at this time. We will not use Cupboard money to buy dessert treats or juice boxes, so those are appreciated as 'special treats' when they do appear.
Monetary donations may be made to Wilson College with "food pantry" in the memo line.
Transportation
If you need a ride or if you are driving and could bring another alumna/us from your area, please indicate this on your reservation form. Contact our office by phone 717.262.2010 or email ARoffice@wilson.edu. We will work to assist in coordinating arrangements for all those wishing to attend. We regret we are not in a position to make guarantees.
Current Requests for Travel Assistance: 
Requests will be added as they come in.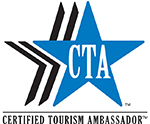 Wilson College proudly carries the designation of having Certified Tourism Ambassador (CTA) program graduates among our staff and alumni. When you click on the CTA icon on our webpage, it links you to Explore Franklin County https://www.explorefranklincountypa.com/home/, our local visitor's center website.