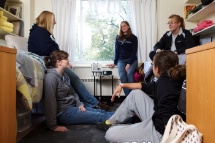 Living on campus is one of the most impactful decisions you can make in your college career! Students who live on campus are more likely to persist in their education, utilize campus resources, form campus connections, and participate in campus life.  Wilson College wholeheartedly believes in the positive impact of living in the residence halls and encourages all students to make the most of their time on campus. As an extension of this belief and in effort to develop and support the entire student both academically and socially, all Traditional College (TRAD) students are required to live on campus all four years. 
Students living on campus will find a multitude of services within easy reach - the dining hall, Student Center, Library, Campus Safety, Academic Success Center, Fitness Center, the College Nurse, campus counseling, the post office, and more. Each residence hall features a full kitchen, coinless laundry, a lounge with entertainment equipment, and a computer lab. Students in the residence halls have a unique opportunity to develop friendships through the organized program offerings as well as through the spontaneous socializing that happens daily (late night food run anyone?). Our residence halls offer a range of living options to suit a variety of personalities and needs - doubles, triples, and quads as well as singles and suite-style living - some even offer private bathrooms.
Our residence halls are staffed by Resident Assistants (RAs), upperclass students who can help with any concerns or issues a student might have - or, if they can't help, they know the folks on campus who can. RAs work tirelessly to make sure students feel welcome, to help them get connected, to address any concerns that might arise, and to provide activities throughout the year to meet students' needs academically, socially, and personally.  We also have Campus Safety officers and Administrators-On-Call on duty at all times, 24hours a day, 7 days a week, even during holidays. Students and families can be assured that if a need arises, there is someone nearby to assist.
As part of living on campus, residential students are required to carry a campus meal plan. This ensures both proper nutrition as well as the regular opportunity to nurture relationships through meal sharing. Our dining services are top-notch, offering a range of delicious options at each meal. Through easy-to-navigate menus and allergy filters, students can find options that fit their dietary needs at every meal offering. Sage, our dining service provider, works with students with complex dietary needs to identify options that meet needs as well as taste. Students can suggest changes or request additions to the dining menu at any time through comments cards - the Sage staff takes these cards seriously and they work diligently to meet as many of these requests as possible.
Wilson students also have the unique ability to directly impact their life on campus through participation in dining committee, parking committee, Residence Council, and student government (WCGA). Our students directly impact the decision-making process throughout the college to ensure that our services are meeting the needs of students currently on campus. Our small size means we can respond and adapt quickly to ever-changing student needs while still providing consistency in campus life. Our students are a part of an intimate campus environment where they are more than just a resident - they are a vital part of the community every day.