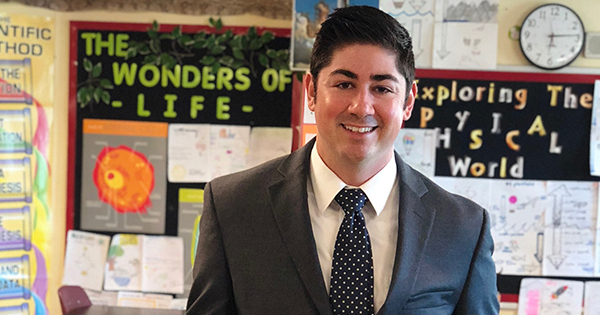 TOP completer, Benjamin Semple '20, ML Science, North Creek Academy, Calif.
Teachers from out-of-state can now earn Pennsylvania teaching certification through Wilson College's innovative Teacher Online Pathway (TOP). Convenient, flexible and affordable, TOP is for current teachers who want to work towards certification on their own schedules. Pennsylvania teaching certification is recognized in most states in the U.S.
Classes are taught online and asynchronously—meaning students can learn at their own pace, create their own schedules and complete their coursework from the comfort of their homes. If they choose to pursue an accelerated schedule, they can complete the course requirements within as little as one academic year. 
TOP offers Pennsylvania Level I certification in:
 Early childhood education (PreK-4, elementary)
Middle level education (4-8) for English, mathematics, science and social studies
Secondary education (7-12) for English, biology, chemistry, mathematics and social studies
PreK-12 for business, computer & information technology, health & physical education and Spanish
Special education
All TOP instructors are current or past educators with real-world classroom experience. Wilson College will hire a cooperating teacher and college supervisor within the student's school district to oversee the intern teaching requirements for certification. For more information go to Wilson College's TOP webpage or email tcp@wilson.edu. 
Benefits of Wilson's TOP teaching certification:
Affordable—with an average cost of $1,500 per three-credit class, certification is within reach of most teachers. Financial aid is available for qualified applicants.
Reimbursable tuition—many schools or school districts reimburse their teachers in full or in part for TOP classes.
Deferred payment—after an initial down payment, we can defer payment until the end of each semester. This allows students to present transcripts to their school districts and receive available reimbursements before the tuition bill is due. Some schools will pay the college directly.
Education technology workshops—learn how to use and integrate technology into a curriculum in a traditional or a virtual classroom.
Graduate degree credits—many TOP course credits are transferable to graduate programs. 
Unlimited course credits accepted—TOP accepts all appropriate education credits earned within the last 10 years toward the credits needed to complete the program.
Small class size—our students are individuals, not numbers.
Communication—instructors are available and accessible. We require our instructors to respond within 24-hours to students during the workweek. Typical response times are much shorter.
Individual advisers—every student has a dedicated adviser with whom to plan their path, choose their courses and discuss any issues.
Requirements to enter the TOP out-of-state program:
Bachelor's degree—students must have a bachelor's degree from a regionally accredited institution.
Current teacher—must be employed as a PK-12 teacher in one of the TOP areas of certification in order to complete the intern teaching requirement for certification in Pennsylvania.
Student responsibilities:
Students must complete the required Pennsylvania testing before completing their intern teaching requirements.
While Pennsylvania teaching certification is accepted in almost every state, students are responsible for investigating how to transfer this certification to their own state.
Published: Tuesday, December 7, 2021
Contact
Wilson College
Office of Marketing and Communications
1015 Philadelphia Avenue
Chambersburg, Pa. 17201