Attention Class Officers
Hard copies of the handbook will be mailed to Class Officers without an e-mail or upon request as they confirm their positions with the Alumni Relations office at ARoffice@wilson.edu or 717-262-2010
We appreciate your understanding with Covid restrictions that currently limit campus visitors. There are many ways to connect by phone, email and virtual activities.  For any clarification, please contact alumni relations.
Does the Alumni Relations Office have your updated employer information to make Wilson Connections? Email us at ARoffice@wilson.edu
Making Wilson Career Connections
Helping students prepare for life after Wilson
  Connect with the Career Development and Alumnae/i Relations Offices
  Make a campus visit or host workplace visit
  Sponsor internships or job shadowing
  Share employment openings
  Give to the Internship Gift Program (https://www.wilson.edu/alumnae-association-internship-gift)
  Be a mentor
  Come to our networking events
Contact us:
Linda Boeckman, Director Career Development, linda.boeckman@wilson.edu, 717-262-2616
Marybeth Famulare, Director Alumni Relations, marybeth.famulare@wilson.edu, 717-263-2048
---
Volunteer at the Hankey Center and Boyd Archives
Join the staff and other alumni volunteers for a walk down memory lane. Volunteers are needed to help with scanning photographs and documents, transcription of hand-written letters, and other basic archival processing tasks. General hours are M – F 9:00 – 4:00 pm. Contact Annika Dowd at annika.dowd@wilson.edu for more information.
---
Volunteer with Athletics
For up-to-date infomation on scheduled games please visit the athletics calendar by clicking here and come cheer on your favorite Wilson team! Athletics invites you to come volunteer with opportunities such as, but not limited to, handing out game programs, shooting video, taking pictures, and more. If interested please contact Jeremy Shepherd at jeremy.shepherd@wilson.edu
---
Check out the Aunt Sarah / Uncle Wilson tab on this page to learn more about the Aunt Sarah / Uncle Wilson program! 
---
Want to help out at the Fulton Farm?
If you are curious about what goes on at the farm, consider volunteering!  Volunteers help with a variety of work in the field. No experience necessary…come learn! If you are interested or have questions please contact:
Chris Mayer, Director, 264-4141 x 3247 or email christine.mayer@wilson.edu
At Wilson College, alumni have the unique opportunity to adopt a new relative by participating in the Aunt/Uncle Program, named in honor of our namesake Sarah Wilson.  Alumni volunteer as "Aunts or Uncles" and students sign up to be "nieces or nephews".  An Aunt/Uncle will be in contact with their niece/nephew through a letter/email or an occasional package to brighten a student's day and to provide encouragement. The hope is that students will respond in return. The program builds bonds between former and current students. Some of the pairings last a semester, some through commencement and others, a lifetime. 
For decades students have enjoyed developing a relationship with their paired alum; hearing and sharing Wilson stories/traditions, as well as, career and other personal life adventures. For alums, it is an opportunity to remain connected to campus life and give back in a personal way. This connection is perfect for those alums local, regional or a far distance.
Traditionally, "Aunt Sarah" was a secret connection with hints and clues to discover identities. However, over the years with new technology, many decide to email, text, Facetime, Skype or even meet face to face for ongoing interaction.  A secret connection is still possible with letters or packages going back and forth utilizing staff in the Alumni House. For many, the real tradition is that someone provided this connection to you as a student and now, as an alum, you keep the program alive. We have added "Uncle Wilson" to be inclusive of our Wilson Community.

Thank you all for your participation.

Ideas that do not cost a lot of $$:
postcard or letter once a month - send riddles or jokes, share stories, encourage and wish them well 
send activity - Sudoku, puzzle or coloring book, pens or pencils in fun colors, silly putty 
choose some novelty or festive socks 
items such as candy, lip balm, magnets, key chains, laptop/water bottle stickers, coffee or hot choc packets 
small amount gift card to a national chain 
place a $5 in a card with a note

2021 Semester Dates
Classes Begin - Aug. 30
Fall Break - Oct. 18-19
Thanksgiving Break - Nov. 24-26
Final Exams - Dec. 13-17
Warmly,
Marybeth Famulare Honorary '17, Director of Alumni Relations 
Katie Shank '19, '21M  Alumni Relations Associate 
Cynthia Fink Barber '73, Volunteer Coordinator
---
Be an Aunt Sarah or Uncle Wilson!
If you would like to be an AUNT/UNCLE — sign up here. Be sure to include your home address if you want to hear from your pairing directly. New applications from students are pouring in. Spread the word!
Prefer to print and mail click here.
---
Did you know....
I keep a small "stash" of small gifts or gift cards which allows me to be responsive if I learn of a student who is having a rough time or even deserves a congrats of some kind. Faculty or staff give me a heads up on occasion and with your help, I fill a need. If being paired is too much a commitment or you would like to just do something extra. I accept goodies on behalf of my private stash ... I sign from Aunt Sarah or Uncle Wilson Thank you. -Mb
Click this link, Aunt Sarah / Uncle Wilson Guidelines, based on the questions from past years.
If you are a returning AUNT or UNCLE and have not yet indicated if you are remaining in the program and which student(s) you are keeping, please email Marybeth Famulare, Director of Alumni Relations, at marybeth.famulare@wilson.edu If you prefer not to continue at this time, that is important for me to know as well.
Interested in giving a Wilson Bookstore gift certificate?
Go to http://bookstore.wilson.edu/; gift certificates can be found in the products section under miscellaneous. If you would like the gift certificate given to a current student and put in their mailbox on campus, please mark "in store pick-up" and indicate the student's name in the special instructions section.
Sidebars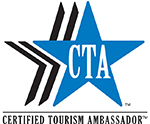 Wilson College proudly carries the designation of having Certified Tourism Ambassador (CTA) program graduates among our staff and alumni. When you click on the CTA icon on our webpage, it links you to Explore Franklin County https://www.explorefranklincountypa.com/home/, our local visitor's center website.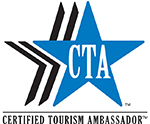 Wilson College proudly carries the designation of having Certified Tourism Ambassador (CTA) program graduates among our staff and alumni. When you click on the CTA icon on our webpage, it links you to Explore Franklin County https://www.explorefranklincountypa.com/home/, our local visitor's center website.