Leadership Under Fire: Lessons From the Battle of Gettysburg (EDU 591) is a unique leadership class that provides participants with graduate-level college credits and Pennsylvania Inspired Leadership (PIL) Act 45 (40 hours), Act 48 (90 hours).
Take your leadership skills to the next level. Enjoy a mixture of experiential learning at the Gettysburg Battlefield, introspective online discussions and a culminating project where participants will demonstrate how their newly acquired insights lead to improved student and adult performance in the classroom.
Course dates and times are scheduled individually based on district/organization needs. Please contact Graduate Education Programs Director for scheduling (Dr. Eric Michael - eric.michael@wilson.edu).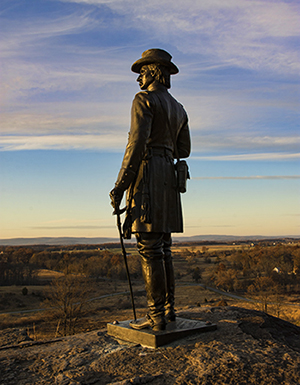 Overview
This unique program provides participants with graduate- level college credits and Pennsylvania Inspired Leadership (PIL) Act credit: Act 45 (40 hours), Act 48 (90 hours). The PIL program is a statewide, standards-based continuing professional education program for school and system leaders focused on developing the capacity of leaders to improve student achievement.
EDU 591 is ideally suited for active school and system leaders employed in Pennsylvania in the following positions:
Principal
Assistant or vice principal
Superintendent
Assistant superintendent
Intermediate unit executive director
Intermediate unit assistant executive director
Director of an area vocational-technical school
Few events in history provide a more authentic setting for a study of leadership than the Battle of Gettysburg. For three days in July 1863, more than 165,000 men were engaged in what became a turning point battle of the American Civil War. In human terms, Gettysburg resulted in 51,000 casualties, making it the most costly single engagement of the war.
A study of this historic battle examines leadership strategies, successes and failures in the decision-making process and reviews consequences of effective and ineffective leadership tactics. The Gettysburg Battlefield is a powerful backdrop for the study of leadership and how those same organizational strategies, still relevant today, can be applied by 21st-century leaders.
Logistics
This course is an interactive leadership seminar offered on the battlefield of Gettysburg and via online instruction. The seminar experience highlights all three days of the battle and the larger military campaign of which it was a part. The battle is studied through a mixture of history, military strategies and tactics, and leadership lessons.
Thirteen leadership lessons are divided into four separate modules. Instruction focuses on specific leadership skills, and all experiences use Socratic teaching and questioning to foster critical thinking. Flexibility exists within the curriculum to break sessions into multiple days and times to accommodate a cohort's scheduling needs.
Elements of Study
Historically significant axioms of leadership tied to personal and organizational leadership.
Models of leadership and command.
Organizational structure and leadership protocols.
Individual and group decision-making models.
Strategic objective and goal setting.
Tactical planning, development and implementation.
Articulated lessons on leadership and command.
A historical framework for contextual reference.
Focus on Personal Leadership and its impact on Organizational Leadership
Leadership style of Abraham Lincoln
Contact Information
Eric C. Michael, EdD 
Director of Graduate Education Programs 
Wilson College
1015 Philadelphia Avenue
Chambersburg, PA  17201
717-262-2045
med@wilson.edu