A Nobel Laureate and the CFO of the United States Secret Service will address the classes of 2020 and 2021, respectively, at this year's ceremonies.
The College will have two commencement speakers this year to honor the classes of 2020 and 2021. The 150th annual commencement ceremony, scheduled for May of last year, was postponed due to the COVID-19 pandemic restrictions. Instead, the College's 2020 graduates will be honored at a commencement ceremony Saturday, May 15. The 151st commencement ceremony, honoring the class of 2021, will take place Sunday, May 16.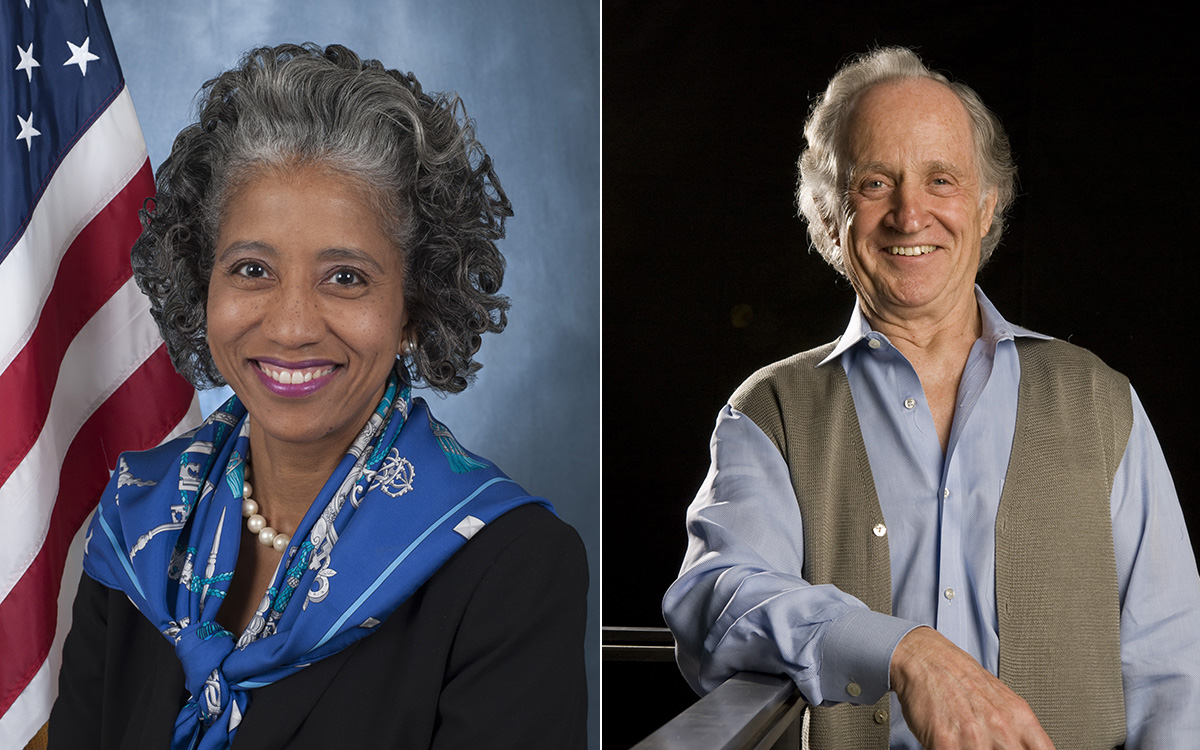 Mario Capecchi, a molecular geneticist and co-winner of the 2007 Nobel Prize in Physiology or Medicine, will address the 2020 graduating class. Capecchi shared the Nobel Prize with two other scientists for discovering a method of deactivating ─ or knocking out ─ specific genes in mice. The technique provided a much more reliable method of altering animal genomes. This is used in gene targeting and has contributed to the development of new treatments for diseases in humans, including cancer and diabetes.
In addition to his distinguished career in science, Capecchi has a fascinating personal story. He was born in Italy in 1937, the son of Italian air force officer Luciano Capecchi and American poet Lucy Ramberg. When World War II broke out, Capecchi and his mother were living in the Italian Alps. His mother was arrested for her anti-fascist activities and sent to Dachau, the first Nazi concentration camp.
Expecting to be arrested, Capecchi's mother had paid friends to let her son live with them. But when the money ran out, they turned him out of their house at age 4 ½. Capecchi lived on the streets with other homeless children, as well as occasionally in orphanages, for five years. He spent the final year in a hospital, where he nearly died of malnutrition.
After Capecchi's mother was released from Dachau, she spent two years searching Italy for him. She eventually found him at the hospital. Soon after, they came to live in the United States, settling in a utopian commune in Pennsylvania co-founded by Lucy's brother, physicist Edward Ramberg, and his wife, Sarah.
Gwendolyn Sykes, the United States Secret Service CFO, will address the 2021 graduating class. Sykes is responsible for the execution, development, and stewardship of the Secret Service's resources and currently manages a financial team that includes budget, financial management, relocation, and financial systems experts.
Sykes is the first African American female to have served as the CFO at NASA, the National Aeronautics and Space Administration. Nominated by the President of the United States and confirmed by the United States Senate, she was responsible for this $16 billion agency's financial management and health. She led more than 500 finance professionals, located across ten geographically dispersed locations throughout the United States, to develop and execute financial policies, processes, and procedures.
Sykes has also served as Yale University's CFO, the first in that university's 306-year history, and CFO for Morehouse College. Previous government experience includes working within the Department of Defense and in the office of U.S. Senator Ted Stevens.
Sykes holds a Bachelor of Arts in accounting from Catholic University and a Master of Public Administration from American University, where she also serves as an adjunct professor in the School of Public Affairs. She has been recognized for her achievements by Black Enterprise, Newsweek, the Today Show, and the National Black Caucus of State Legislators.
 
Published: Sunday, October 17, 2021
Contact
Wilson College
Office of Marketing and Communications
1015 Philadelphia Avenue
Chambersburg, Pa. 17201