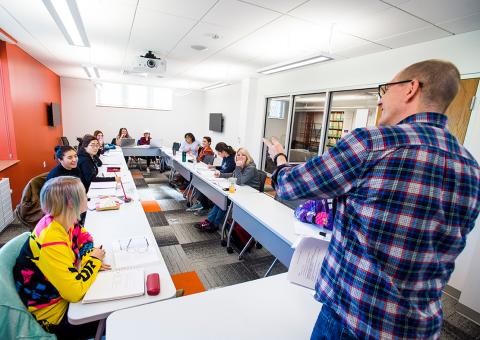 How can we do democracy better? Associate Professor of Religion David True has an answer.
In these contentious times, Wilson Associate Professor of Religion David True hopes to accomplish a rare feat by creating a forum that will foster a civil discourse about politics and religion.
In 2017, the Henry R. Luce Foundation awarded a $200,000 grant to True and Vincent Lloyd, associate professor of theology and religious studies at Villanova University's College of Liberal Arts and Sciences. True and Lloyd are the editors of the academic journal Political Theology. The grant will help develop an interdisciplinary community of scholars interested in the intersection of religion and politics and also create a webpage designed to cultivate a broader community discussion, according to True, who also chairs Wilson's Department of Philosophy and Religion.
True and Lloyd planned to hold their first political theology conference in February at Emory University in Atlanta, Ga. "We want to broaden the discussion beyond religious studies and bring in all disciplines to the conversation," True said. "We're aiming for a civil inquiry, a civil discussion of issues."
The conference invites the submission of proposals for papers that "challenge and transform classic conversations about political theology" and encourages topics examining non-Christian and/or non-Western traditions.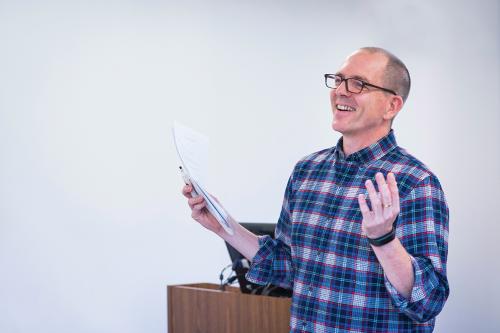 The study of political theology explores the religious beliefs that help shape a person's political views, according to True, who is an ordained Presbyterian minister. "Let's take views on national sovereignty, for example. The theological view of all-powerful God often translates into believers being willing to give that sovereignty to a powerful prince, president or government," he said. "Or a religious view may be that sovereignty is equivalent with white male, so anyone other than a white male in a position of power is disruptive and to be deeply resented."
Political theology encompasses all spectrums of politics, from the liberal to conservative, social justice activism to libertarian, True said. But there is a duality to the subject, a push and pull between the religious and the academic points of view. "The religious side tends to have more constructive views about democracy, while the academic side tends to be more critical," True said. "The goal is to try to get both sides to talk to one another."
True's interest in political theology grew out of his Protestant background, which encouraged faithful participation. The three modern religious figures that influenced his thinking are Reinhold Niebuhr, Walter Rauschenbusch and Martin Luther King Jr. All three at different points, according to True, asked, "How can we do democracy better?"
"All three were arguing for a re-evaluation, a reconstruction of traditional American religion. All were inspired by political activism and wanted a robust political participation and an embrace of democracy," True said. 'But they were also critical of democracy and wanted to engage in debate on how to make it better, and offered up proposals of reform."
Rauschenbusch was a theologian and Baptist pastor who taught at the Rochester Theological Seminary. Known as "the father of the social gospel," Rauschenbusch wrote that "Christianity is in its nature revolutionary." He was involved with the Progressive movement of the early 20th century and "really divided his time between both the political and economic realm," True said. "He saw economic justice as a fulfillment of democracy."
Niebuhr was one of America's leading public intellectuals for several decades in the mid-20th century and received the Presidential Medal of Freedom in 1964. He developed the philosophical perspective known as Christian realism, and wrote and spoke about the intersection of religion, politics and public policy. He argued against the isolationist movement leading up to World War II and during the Cold War, argued against the use of nuclear weapons. "He felt America was called to a greater responsibility in world affairs, but at the same time stressed that our democracy was not to be confused with the Kingdom of God," True said.
Growing up in Birmingham, Ala., True was inspired by the civil rights work of Martin Luther King Jr., who he has described as a beacon of justice. He noted that King not only was involved with civil rights, but also spoke out against the Vietnam War and helped organized the "Poor People's Campaign" to address issues of economic justice. King also saw economic justice as "the fulfillment of democracy," True said.
At times, it seems that the American religious scene is divided into two opposing camps. "There is either a strident criticism of American politics or a simple embrace of an American nationalism," True said. "These three (Rauschenbusch, Niebuhr and King) wanted to try to bring the two sides into a conversation with each other."
The political theology community that True and Lloyd want to build will also attempt to get opposing sides to talk to each other. The hope is that the February conference "will inaugurate a professional network connecting scholars of political theology across varying fields and traditions," True said. From there, a new webpage connected with the Political Theology journal and funded by the Luce grant will keep a broader community conversation going. The journal itself will continue to be an outlet for academic submissions.
But True admits that conversation could be difficult, especially with America at its current political crossroads. "I'm interested in the moment, that's the preacher in me," he said. "I want a discussion about what's currently going on, what people think about Charlottesville, for example, or President Trump's pardon of the sheriff (Joe Arpaio) … This is the internet after all and the internet today seems to breed incivility, but we hope to overcome that."
The job of the political theologian is to expose those religious concepts that underlie political beliefs to the light of day, True said. "I'm not so much interested in discussing President Trump himself, but in discussing what does his election say about our society, what does that say about our movements as a culture? It's more about where have we come from and where are we going as a society, and what do we make of the rise of a rightist populism?"
True, who joined the editorial team of Political Theology in 2004, was originally recruited to serve as a book review editor and later was named journal co-editor. He helped launch the journal's blog, Political Theology Today, and he serves as the blog's executive editor.
The current recipient of Wilson's Drusilla Stevens Mazur Research Award, True also organizes Wilson's annual Orr Forum on matters of religion, as well as the Common Hour discussions held throughout the academic year. This year's topic, fittingly enough, is "Anxiety in Society." Sociologist, commentator and author Frank Furedi will speak as part of the Common Hour series on at noon on April 16.
By Coleen Dee Berry