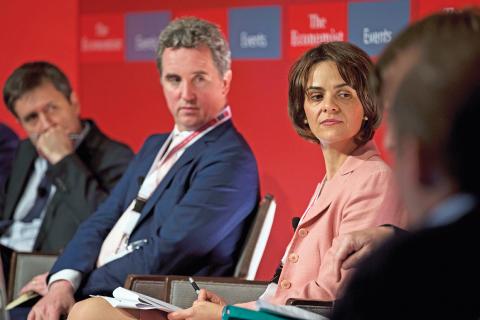 Delia Moraru Velculescu '97 shoulders herculean task as IMF mission chief to Greece
by Coleen Dee Berry
Delia Moraru Velculescu's path to becoming an economist with the International Monetary Fund (IMF) began as a teenager in the wake of the turbulent 1989 Romanian revolution.
Velculescu was 14 years old and living in the city of Sibiu when communist dictator Nicolae Ceausescu was overthrown. Growing up in the communist regime, she remembers frequent shortages of food and electricity—many times she had to do her homework by candlelight. However, "as a small child, I did not fully comprehend the difficulties of day-to-day life in communist Romania," Velculescu '97 said. With essentially no television except for two hours a day of mainly propaganda, Velculescu also knew little about the broader world or the Cold War. 
"I only came to realize the magnitude of these problems later, once the system changed after the 1989 revolution," she said. "All of a sudden, an entire world of information and opportunity came into sight." Velculescu watched as private shops and cafes started to appear and stores began to carry a wider array of goods. "Prices and people's incomes—which before were fixed—started to change in inexplicable ways. I was fascinated by these changes and wanted to understand what explained them," she said. "This is what ultimately drove me to study economics."
Her fascination with those economic changes also led her to make the decision to seek an American college education. "I realized that the study of the kind of economics I was interested in was not yet available at the universities in Romania, so I decided to apply to apply to colleges in the United States," she said.  One of those colleges was Wilson, which gave her the scholarship she needed "to pursue my dream in America."
That dream of a career in economics culminated in Velculescu now holding the formidable job of IMF mission chief for Greece. The IMF, an international organization headquartered in Washington, D.C., is comprised of 189 countries working to foster global monetary cooperation; secure financial stability; facilitate international trade; promote high employment and sustainable economic growth; and reduce poverty around the world.
In her role with the IMF on behalf of Greece, Velculescu must negotiate ways to rescue the financially strapped nation from its mountain of debt. It's a herculean task at best, as Greece has struggled with monetary crises for the past decade. To avert a financial disaster, the so-called "troika"—the IMF, European Central Bank and European Commission—helped forge three monetary bailouts for Greece over the past seven years. Velculescu is one of four international representatives who work to determine the Greek economy's long-term growth rate and the factors that affect it. She was instrumental in the negotiations this year that led to the most recent $10 billion bailout for that country.
Velculescu joined IMF in 2003 after graduating from Wilson with a bachelor's degree in economics and earning both a master's degree in economics and doctorate in the philosophy of economics from Johns Hopkins University in Baltimore. "I always aspired to work for an international organization that helps people around the world, and was fortunate to be accepted at the IMF," Velculescu said.
She started as a junior economist in the IMF's Western Hemisphere Department, working with Caribbean countries. Within 10 years, she was named IMF mission chief— first to Cyprus in 2012 and then to Greece in 2015. In both Greece and Cyprus, she has faced critical problems, but said she relished those challenges.
The economic crises "required complex analysis of difficult economic problems such as a massive banking sector collapse in Cyprus or a prolonged economic recession in Greece, and required finding innovative solutions and then the diplomatic skills to persuade the authorities and other stakeholders to support these solutions," she said. "These challenges have also come with the greatest rewards, such as when one sees the reforms that we have helped design being put into law, helping to restore economic stability and changing people's lives."
Velculescu's IMF tenure in Cyprus earned her the moniker "Iron Lady" from the Cypriot media, who portrayed her as tough and demanding in terms of fiscal consolidation and the requirements she made for the country. According to one published report, when a Cypriot official made an insulting remark about Romanian women during a negotiation session, Velculescu calmly packed up her papers and without a word, walked out of the meeting with her entire delegation.
Today, Velculescu downplays any contentiousness. "I led the sometimes difficult discussions with the authorities about the economic reforms needed to overcome Cyprus' economic problems," she said, adding that the negotiated reforms, implemented with the IMF's help, allowed the country to overcome its crisis.
But she acknowledges that working in some traditionally male-centric cultures is not always easy. "Perhaps one of the few advantages of growing up in communist Romania—where women and men had access to equal education and salaries—is that I did not consider myself to be at a disadvantage because I was a woman. I think this mindset helped me do my best no matter the circumstances," she said. "This being said, I have of course observed and experienced the fact that women sometimes must work harder, get out of their comfort zones and prove themselves more to succeed in the workplace. I have treated this as a challenge and (an) opportunity to better myself every day."
As the mother of three, Velculescu said another, more personal challenge "has been being able to manage this difficult work while also raising a family." She met and married her husband, Dr. Victor Velculescu, when they were students together at Johns Hopkins. He is an oncologist and co-founder of Personal Genome Diagnostics of Baltimore, and helped develop serial analysis of gene expression—a revolutionary method for global gene expression profiling.
Velculescu and her husband, along with their twin daughters, visited Wilson during Reunion Weekend in June, when Velculescu was honored by the Alumnae Association as Outstanding Young Alumna for 2017. The award was presented by President Emerita Gwendolyn Jensen, who remembered the young Romanian as a student "deeply involved in the campus life."  Velculescu served as treasurer for the WCGA and was a member of the Muhibbah Club. Jensen recalled her baking "delicious cookies called 'the kiss of Dracula'" for the annual international dinners.
"I have very fond memories of Wilson, especially of the warm atmosphere, the special friendships I made there and the wonderful teachers, who went out of their way to not only educate us, but also make us feel like part of a bigger family—including by inviting us to their homes, where we made ice cream and discussed all subjects," Velculescu said. "I don't think this is something that one experiences at other bigger colleges, and I feel fortunate to have had this experience at Wilson."
Her Wilson education has been instrumental in giving her a good foundation for graduate school and ultimately her career, Velculescu said. "But Wilson for me was more than just a good education. It was the family away from home, the friendly guide that introduced me to a new country and culture, and the demanding but supportive coach that pushed me on toward making my dreams a reality.
"I am very grateful to Wilson for making this all possible," she said. "I wish for every young woman now at Wilson to trust and embrace their college experience, to seek rather than avoid challenges, and (to) not be afraid to pursue their dreams." 
Economics