Loren Karabatzoglou '21 promotes dwarfism awareness on campus
By Coleen Dee Berry
Ask Loren Karabatzoglou '21 about what it's like to be a little person. Go ahead, she won't mind—"I'm an open book," Karabatzoglou said. "You can ask me just about anything and I won't get mad. I'll just explain."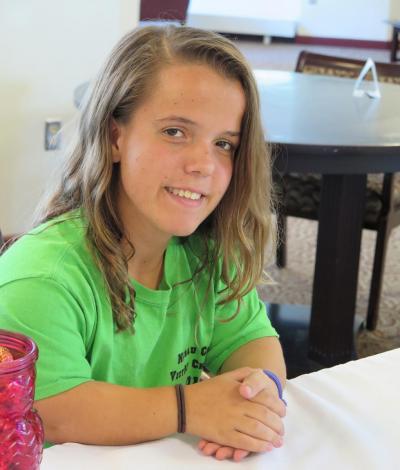 When she entered Wilson this past fall, Karabatzoglou set a goal to promote dwarfism awareness on campus. Halfway through her first semester, she held an information session in Lenfest Commons, where she spent almost two hours fielding questions from students, staff and faculty. "I wanted to do the session as a way to introduce myself here on campus, to tell people that they don't have to be weird around me or treat me differently," Karabatzoglou said.
One of the most common questions she hears: Are all of your family little people? She explains that only one parent has to carry the dwarf gene and if they do, their children have a 50-50 chance of being born with dwarfism. Her father is a little person, while her mother and her brother are average-sized.
When she was touring college campuses as a high school senior, Karabatzoglou said the "non-judgmental atmosphere" at Wilson immediately attracted her. "I could tell from my first visit that people here would not judge me—that there was no prejudice here," she said. "Everyone was very welcoming. Being here is like being home. I'm very comfortable here."
Karabatzoglou is no stranger to ridicule and bullying. Incidents happened in grade school and middle school, but died out by the time she went to high school. "Usually if I ignored it, it stopped," she said. Her father helped her get through those times. "He always told me that my actions showed that I was the bigger person and not to let what other people say get me down." Still, when asked if she had any average-sized friends during grade school, her face clouds over. "Not really. I was too different, I guess. No one really wanted to be friends."
That changed when she was nine years old. A friend of her father's told him about the Little People of America organization. Karabatzoglou started going to national and regional conventions and other gatherings, met other little people and was able to make friends. "Being there showed me that there were other people like me, and that I wasn't the only one going through these situations," she said. "We all support each other."
Karabatzoglou's choice of major—veterinary medical technology—and her desire to play softball also influenced her decision to attend Wilson. "I never thought I'd have a chance to play softball in college and here I am a member of the team," she said. She plays left field and pinch hits, and has already played for the Phoenix during the team's fall tournament.
Growing up on Long Island, Karabatzoglou became both a Yankee and Mets baseball fan. Her family took her to games and her average-sized grandfather, who played in a softball league, taught her how to play. "He's my hero," she said. "He told me, 'You're good at this. Don't let anyone tell you that you can't play just because of your size.' He always encouraged me." She tried out for Little League in third grade "and I won a spot without any problem." She first played catcher from third to sixth grade, switched in middle school to infielder, and by high school was playing both infield and left field. "When I'm playing softball I can be myself," she said.
Karabatzoglou considers her Phoenix teammates to be "like my second family," and says they give her good advice—"better than anyone my age back home." The message she hears from them is, "Don't let what anyone says get you down."
Teammate Megan Potter '20 said it's clear Karabatzoglou loves the game and gives it her all. "You quickly see past her height and see her heart," she said. Early on, Karabatzoglou confided her fear of ridicule to her teammates. "Our team rallied around her to make sure she would never have to feel like this again," Potter said. "I remember telling her that if one person messes with you, you have 20 girls that have your back. "     
Everyone has challenges, Potter noted, but as a team, "We have each other to help us through. Loren is an asset to our team. We always refer to our team as a 'tribe' and she is no less a member than anyone else. Loren has certainly changed my perspective because of the achievements she has made … In Loren's case, the sky is the limit, no matter how big or small she is."